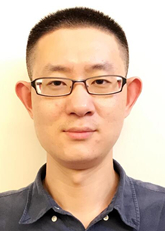 Associate Professor
Phone: 86-27-87542391
Email: liujingphys@hust.edu
Academic Areas:
Research Interests: quantum metrology
Academic Degrees
Ph.D. degree
Professional Experience
2018.01– Present: Associate Professor, Center for gravitational experiments, Department of Physics, Huazhong University of Science and Technology.2015.10 – 2017.12: Postdoctoral fellow, Department of Mechanical and Automation Engineering, the Chinese University of Hong Kong, Hong Kong, China.
Selected Publications
1. Control-enhanced multiparameter quantum estimation, J. Liu and H. Yuan, Physical Review A 96, 042114 (2017).3. Valid lower bound for all estimators in quantum parameter estimation, J. Liu and H. Yuan, New Journal of Physics 18, 093009 (2016).4. Quantum metrology with unitary parametrization processes, J. Liu, X.-X. Jing and X. Wang, Scientific Reports 5, 8565 (2015).5. Phase-matching condition for enhancement of phase sensitivity in quantum metrology, J. Liu, X.-X. Jing and X. Wan, Physical Review A 88, 042316 (2013).6. Nonunital non-Markovianity of quantum dynamics, J. Liu, X.-M. Lu and X. Wang, Physical Review A 87, 042103 (2013).
Selected Cases
Awards and Honors
Courses Taught
Login and edit information